Guidance: Robotics and autonomous systems: defence science and technology capability
Dstl makes sure the UK can understand and use robots and self-governing artificially intelligent systems for our defence and security. From delivery drones to sniffing out chemical agents, we ensure robots are a force for good.
Robotics and human-led autonomous systems are some of Dstl's top research and funding priorities, as the UK government has recognised the opportunities for new battle-winning technologies such as robotics and artificial intelligence (AI) to help reshape the UK's armed forces for a more competitive age. For example, the British Army has committed to integrate robotics and autonomous systems as well as electric vehicles on the battlefield as part of its future vision.
Advances in artificial intelligence, data science, autonomous systems and human-machine teaming promise to deliver the capability needed to achieve multi-domain integration and revolutionise warfare.
The right tasks for robots
We use robots in the right place – where a task is dull, dirty, dangerous, or physically or cognitively hard – not to replace humans in jobs that require our unique capabilities such as creativity and imagination.
So instead of our armed forces using row boats and string when mapping safe routes across 'wet gaps' like rivers, we are working with industry to develop autonomous amphibious vehicles and drones that can do this job.
We are also working alongside other parts of the MOD and Industry partners to develop and demonstrate ideas for a Lightweight Affordable Novel Combat Aircraft (LANCA), an uncrewed aircraft that could be deployed alongside fighter jets like the F-35 and Typhoon. It could protect the fighter jets and their crews, as well as providing the crew with extra information, especially where they might be quicker and cheaper to build than traditional combat air systems.
And we are investing in the development of cutting-edge telexistence technology, which will enable humans to perform complex tasks and operate equipment at a safe distance from hazardous environments.
Working together with humans
Our goal is to form useful productive relationships between humans and machines.
We have successfully trialled a prototype robot that can seek out chemical agents, so that humans and machines can now share the burden of detecting and report dangerous chemicals over large areas.
The Merlin robot, with funding from the MOD, the Home Office and our industry partners, allowed personnel to monitor and manage the test incident scene from a safe distance, away from potential harm.
Chemical detection robot video
We regularly team up with the armed forces to see how they can partner with smart machines to change the way that military operations are conducted.
As part of the Army Warfighting Experiment in 2020, soldiers, aircrew and our scientists spent 2 weeks on Salisbury Plain combining their usual equipment with uncrewed aerial vehicles (UAVs) and autonomous uncrewed ground vehicles (UGVs) developed by our industry partners.
In this exercise, helicopter pilots controlled UAVs from the cockpit, helping ground troops and vehicles be more aware of what's happening around them. Tank commanders and dismounted troops used UGVs and UAVs to help them find targets in complex urban environments.
Many drones make light work
We push the boundaries of technology and show what the UK is capable of achieving.
Dstl has collaborated with the MOD and a number of small and medium enterprise partners to demonstrate the UK's ability to control a swarm of over 20 drones.
We showed that large numbers of drones can carry out different tasks simultaneously, while being safely under the control of a very small number of human operators. This opens up many possibilities for real-world military applications.
Our work includes understanding and, where necessary, countering the threat posed by others using these technologies. So we also look for innovative solutions to address the increasing uncrewed air system (UAS) threat to the defence and security of the UK.
Dual application of autonomous systems
The robotics and autonomous systems we develop and use have application in both civilian and military life, so we work closely with the thriving digital technology industry and alongside other parts of government.
Our job is to focus on uses of robotics and autonomy in the unique military environment, but we work with existing technology that's been developed for other purposes, and we share our research so that it can be used more broadly by others.
Building on long-term research and MOD investment in Dstl and into industry, we've contracted partners L3Harris to develop a new uncrewed marine platform with intelligent autonomy, similar to a water-borne 'drone' to provide the test platform for developing the latest autonomy. We've built a whole series of Maritime Autonomy Surface Testbed (MAST) vessels in a process of continuous improvement, increasingly levels of functionality and capability as new technologies are developed and tested.
The MAST vessels can be partly or fully autonomous, and can be used to identify threats such as enemy ships or collect intelligence on targets while moving at high speeds.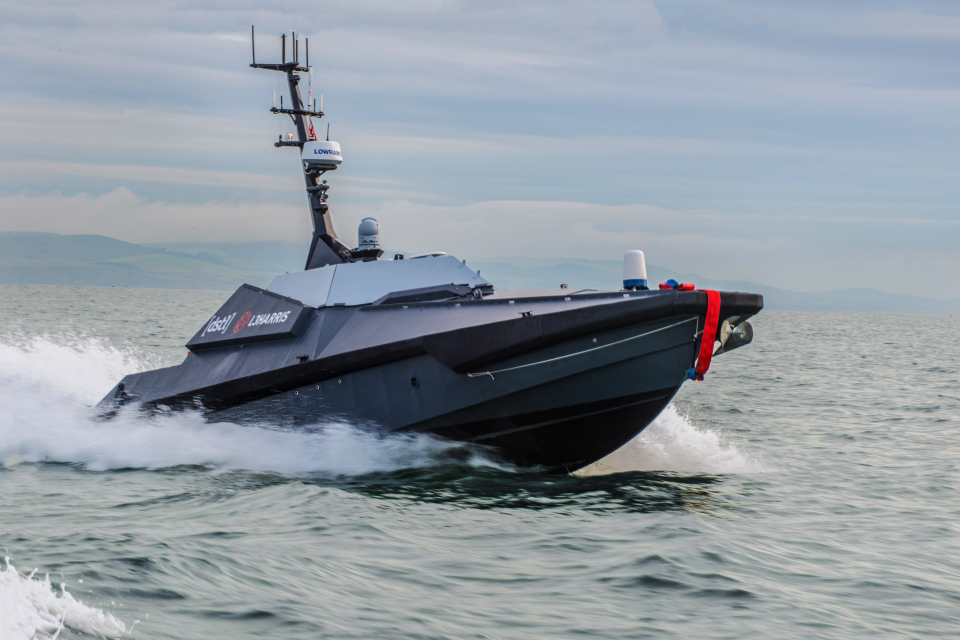 The Navy is using the MAST-13 'stealth boat', MADFOX, for a range of test and evaluation trials including in the Arctic.
MAST is also now being trialled by the UK Border Force, and the technology is now available for use by intelligence gathering and threat detection communities around the globe. It's one of many Dstl innovations that can be licensed through Ploughshare, established to commercialise Dstl's activities.
An ethical approach
We use artificial intelligence, autonomy and robotics safely and ethically. Our responsible approach is in line with policy across government to ensure humans will always have overarching meaningful control of any AI system, and that such systems will match our ethics and are not inadvertently harmful.
We work closely with Dstl's AI capability. Together we make sure our AI software is safe to use, for example to control a swarm of drones, and can be employed in real world applications.
Capability areas
Globally, the vast majority of investment in robotics and autonomous systems is driven by the commercial sector. We access this rapidly growing cutting-edge technology sector and harness the opportunities it provides as a force for good in defence and security.
Dstl's expertise lies in the application of these technologies for defence and security, meeting the unique challenges of operating in a contested environment (where adversaries are deliberately trying to stop or harm us).
Some of our key capability areas are:
Design, integration and interfaces
Consent, trust and confidence: assured autonomous systems that match our ethics and are not inadvertently harmful
Verification, validation and vulnerabilities – designing and testing systems to ensure they are behaving as intended and not open to attack
Human-machine teaming
Threat assessment
Dstl's robotics, autonomous systems and AI teams provide the new Defence AI Centre with science and technology expertise. The new Centre aims to place the UK at the forefront of developing AI and its application in the physical, virtual, informational world, and to put AI at the heart of defence.
We also collaborate and provide specialist expertise across Dstl's areas of work, as robotics and autonomy are being used more widely within defence science and technology.
Work with us
Job opportunities
We are always looking for talented individuals to join us in this exciting and varied area of technology research and development, where you'll get to work on projects with jaw-dropping results, and have opportunities to travel the world.
You don't need to have worked in defence – we actively welcome diverse thinking. You might come to us with a relevant background from a different industry or sector, straight from education, or join us as an apprentice.
We offer unique experiences putting the most advanced thinking and technology into real-life use, and engaging with military and civilian partners.
Opportunities for suppliers
There are several routes to working with us. We particularly welcome companies who have not worked with defence before, and small and medium-sized enterprises (SMEs). We work closely with the vibrant community of AI start-ups, who get the satisfaction of seeing their code developed into real-world applications.
We often promote funding opportunities for robotics and autonomous systems through open competitions for industry, run for us by the Defence and Security Accelerator (DASA).
Small and large companies can also become part of our supply chain through our procurement frameworks, such as Serapis.
Partnerships and projects
We work closely with international partners and a range of academic bodies. Talk to us about potential future partnerships and projects by emailing centralenquiries@dstl.gov.uk